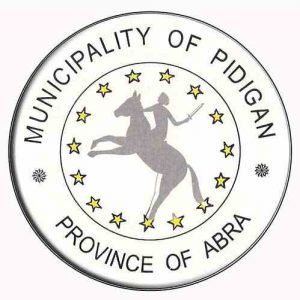 Seal Symbolism
Fifteen Stars, represent the municipality's 15 barangays.
A Woman Riding a horse, the woman is Gabriela Silang, the municipality's heroine and a resident of San Diego who revolted against the Spaniards.
History and Government
The origin of the name of "Pidigan"is not well known. Some old people of the municipality say at first, the site of the Poblacion was then called "Bantay Lugnac". Later, the places' name became "Pidpideg" which became Pidigan. It was called Pidpideg when one time a group of people went down the river below the place in a bamboo raft and were brought close to the rocks on the riverbanks by strong current thus, the word pidpideg was used to describe the event. The word pidpideg came from an Ilokano term which means "forced close against".
. During the outbreak of World War II, Pidigan Was among the garrison centers of the Japanese Imperial Forces in Abra. The Japanese forces used school buildings and private large houses as barracks. When Liberation came in 1945, Pidigan was made the temporary seat of the Provincial Government of Abra. The house of Ex-Mayor Jeremias Bringas was used as the Provincial Capitol with Atty. Zacarias Crispin as Military Governor and Mr. Emilio Bringas as appointed Military Mayor up to September 1945.
Originally, Pidigan had 5 barangays. They were: Arab, Induyong, Caburao, Pamutic, and San Diego. In an attept to enhance the economic, social and cultural well-being of the people, the municipality was divided into 15 barangays: Alinaya, Arab, Poblacion East, Garreta, Immuli, Laskig, Monggoc, Naguirayan, Pamutic, Pantuc, Pangtud, San Diego, Sulbec, Suyo, West Poblacion and Yuyeng.