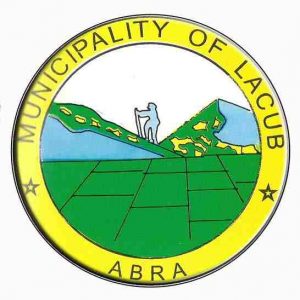 Seal symbolism
Man, symbolizes the people who move forward to look for better opportunities to improve their lot from the utilization of the natural resources of the municipality.
Mountains, represent the location of natural resources, more particularly hard metals like gold which are expected to improve the lives of the people.
Green Color, indicates the richness of mineral resources and natural vegetation.
Yellow Color, stands for gold found in the market.
History and government
The inhabitants of the municipality of lacub are predominantly tinguians coming from the three tribes, namely: Mabacas, Adasens, and the Binongans. The Binongans originated from Abulan, San Juan, Abra. The Mabacascame from Lubuagan, Kalinga. The Adasens were from Tineg, Abra and the western part of Apayao.
The first settlement in the area was precluded by fierce fighting between the Iballatocs of Alzados and the Adasens. The latter came out victorious in the battle and occupied the area which they first called Adasen territory that included the eastern part of Apayao and the Tineg district.
The dispute between the two tribal groups worsened as the Alzados tried hard to force the Adasens westward until they succeeded in capturing more than half of the territory. The Iballatocs took position at Bacag, now the largest barangay of Lacub. The Iballatocs named the territory Mabaca in honor of their chieftain Mabaca at the time of the conquest. Years later it was named Bacag.
Highly esteemed among the capitans of the locality during the Spanish Regime was Capitan Apo Guyang who contributed much to peace and order. Other great leaders of Lacub were Capitan Legnasen, Capitan Saboy, Capitan Cayyong.
When Lacub became a Rancheria, those who became presidents were: Balani, Balucas, Alunday, Gaboy, Dalingay, Danao, Ortega, Bawalan, Lumidao, Aggoy, Bersamina and Ferraren.
Lacub became a regular municipality in 1948. At present, it has 6 barangays as follows: Bacag, Buneg, Guinguinabang, Lanag, Pacoc/Talampac and Poblacion.