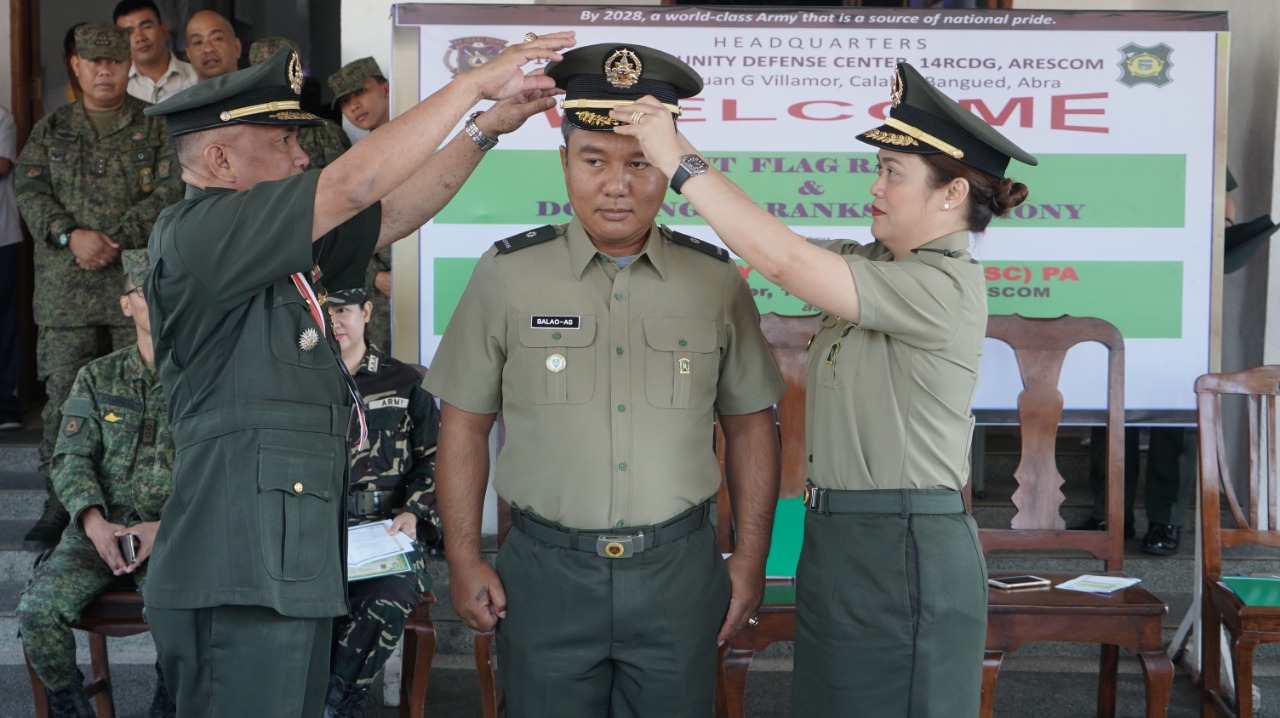 Today (March 4, 2019), headed by Gov. Joy Bernos, the national and local government agencies convened at the Capitol Grounds for the joint flag raising and donning of ranks ceremony.
Colonel Gregory Docil, group commander of the Army Reserve Command (ARESCOM) is also present at the event.
Eight enlisted reservists from 1402nd RRIBN were promoted to the next higher grade effective March 1, 2019.
Governor Joy Bernos was also given recognition by ARESCOM for her invaluable support to the 1402nd Community Defense Center such as providing facilities and transportation to the Reservist and ROTC Unit training programs for 2018.
Pursuant to the National Defense Act and Republic Act 7077, Vice Governor Ronald Balao-as was given the rank of Major. Probationary Second Lieutenant Megie Luis of the Philippine Army was also given the rank Second Lieutenant.
Tineg Mayor Corinthia D. Crisologo was given two recognitions for her invaluable support to the 1402nd Community Defense Center and ROTC Cadets.
Ltc Marlyn Damasen, Commanding Officer of the 1402nd RRIBN, was also recognized for steering the battalion towards the successful accomplishments of the unit.
PFC Sherwin Cesar Adame, Medical Aidman of the 1402nd RRIBN, was recognized for being the best reservist enlisted personnel of the Philippine Army for 2018.
A student of the Abra State Institute of Science And Technology (ASIST) was also given recognition for bringing honor to ASIST ROTC Unit. Cadet Jovelyn Sambo, received a plaque of recognition as one of the 10 Chief of Staff AFP Scholarship awardees nationwide during school year 2018-2019.
Another award was also given to her as the Best Female Reserved Officer Training Corps (ROTC) Cadet for 2018.
ASIST was also recognized by ARESCOM for producing the best reserved officer training corps.
Colonel Gregory Docil expressed his appreciation to all the stakeholders for their support leading to the success of the ARESCOM. Docil said that supporting the ARESCOM gives them more strength and motivation to render their service wholeheartedly even if it takes their lives.
ARESCOM's mission is to develop, organize, train, equip, and administer reservists into a responsive and mobilizable reserve force as an integral component of the total army in the defense of the state and to participate in socioeconomic development in the province of Abra.