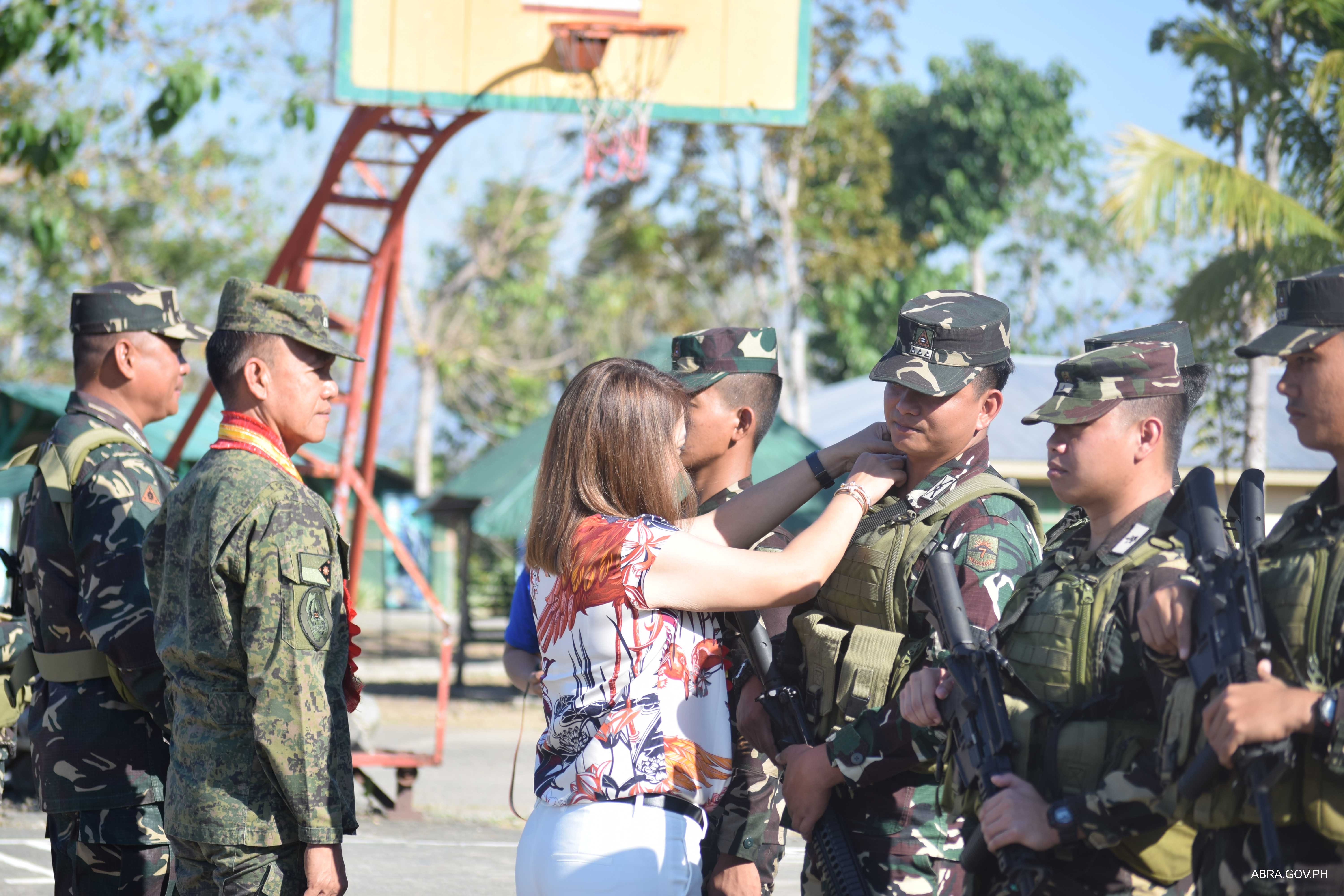 The Provincial Government of Abra recognizes the bravery and service of Philippine Army (PA) personnel.
The following are the newly promoted officers of the PA: Capt. Ric Ivan C. Joven, 1LT Marion Jose C. Intong, 1LT Melanie V. Mercado, and 1LT Franklin Jess A. Boquiren.
The Wounded Personnel Medals were awarded to Pvt. Dondon B. Dagdag who was wounded in action during an encounter with an unidentified armed group at Brgy. Gapang, Pilar, Abra.
Meanwhile, the following Wildcat Troopers received their certificates of recognition for their bravery during the encounter at Sitio Mabongtot, Brgy. Ud-Udiao, Sallapadan, Abra February 11, 2018: 1LT Ricarido N. Francisco Jr., Sgt. Randy A. Federe, Sgt. Harris I. Matadling, Sgt. Jay A. Cantillo, Cpl. Rodolfo G. Ronsairo, Cpl. Randy E. Dela Cruz, Cpl. Pedrito V. Bergonia Jr., PFC Ernie M. Encarnacion, PFC Winstan G. Ibarra, PFC Joseph C. Resolme, PFC Richard C. Modelo, PFC Ralph E. Villanueva, PFC Ricky S. Ancheta, PFC Joseph C. Bumanlag, PFC Judel C. Fugen, PFC Jayson B. Molina, PFC Kenneth Jake R. Espejo, PFC Rodel R. Dullano, and Pvt. Archie G. Deompoc.
Gov. Joy Bernos with Brig. Gen. Milfredo M. Melegrito, AFP Deputy Commander, Northern Luzon Command and Lt. Col. Thomas Dominic B. Baluga, Commanding Officer of the 24 IB, 7 ID, PA awarded them at the 24 IB Headquarters, Sitio Barbarit, Brgy. Tagodtod, Lagangilang, Abra on February 26, 2018.