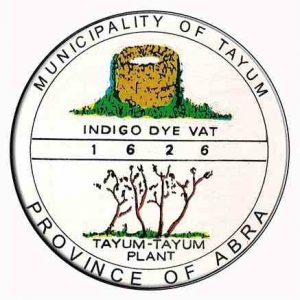 Seal Symbolism
Tayum-tayum plant, the local name for the indigo plant from which the name of the miunicipality is derived.
Indigo Dye Vat, the big vat where tayum-tayum plants were allowed to decay into a blue-black dye called "ngila".
History of Government
Records show that Tayum got its name after the indigo plant which was commonly known to the Ilocanos as Tayum-Tayum. There was a time when indigo flourished in Tayum, then a source of wealth to the Ilocanos. In Barangays Deet, a half kilometer away from the town proper, there was a big vat (Pagtimbugan) used in decaying the plant into a blue black dye called "ngila". The dye was used to color yams of cotton.
At the beginning of the century, however, a powder dye from the Anilino Factories of the Germany came into popular use among Ilocano weavers, causing the death of the indigo industry.
The earliest historical accounts of Tayum date back to 1626 when one adventurous priest, Father Juan Pareja, organized Tayum, also known as Bukaw. Sometime in 1569, another equally daring and adventurous Augustinian Priest, Father Gabriel Alvarez, constructed a temporary chapel in Tayum during the time of his expedition to Lepanto. It was however, in 1725 when Tayum was formally organized as a political unit under the Spanish Regime. Don Vidal Banganan served as the first Governadorcillo.
From a mere "visita" of bangued, Tayum metamorphosed into an independent mission in the year 1807 with the construction of the solid bricks walled church under the successive Augustinian missions. The church was dedicated to St. Catherine of Alexandra whose feastday is celebrated every 25th day of November.
In 1904, Tayum became a barrio of Bangued. This was due to the deterioration of peace and order at the time. Tayum ended as a barrio on December31,1907 with the designation of Don Pio Balmaceda y Belmonte as Teniente del barrio. Balmaceda organized his men in effectively curbing lawlessness thus restoring the town's peacefulness. Shortly afterwards, it regained its town status with Don Manuel Brillantes as it first president.
Tayum is politically subdivided into 11 barangays, namely: Budac, Bagalay, Basbasa, Bumagcat, Cabaroan, Deet, Gaddani, Patucannay, Pias, Poblacion and Velasco.