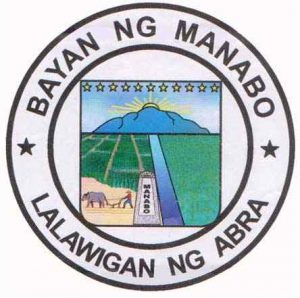 Seal Symbolism
Eleven Stars, represent the 11 barangays of the municipality.
Rising Sun, symbolizes the vision, ideals and aspirations of the people.
Rice and Cornfields, show the principal products of the municipality.
Irrigation Canal Between the Rice and Corn Fields, shows that the municipality is fully irrigated.
"Welcome to Waray Country " Inspiration, denotes that waray, locally known as malagkit is the primary commercial rice product of the municipality.
History and Government
The name "Manabo" came from the word "Anabo", a thorny herb used for making twines of rope, growing luxuriantly in the fields between San Jose Sur and Poblacion. One time during the Spanish regime, a group of Spaniards passed by the place and asked the name of the thorny herb. The people answered "Anabo". From that time on, the Spaniards called the place Manabo.
The first inhabitants of Manabo were Tinguians who came from Mountain Province. They settled in the place before the arrival of the Spaniards and the Tinguians were known to be peace loving people.
Manabo is politically subdivided into 11 barangays, namely: Ayyeng, Catacdegan Nuevo, Catacdegan Viejo, Luzong, San Jose Norte, San Juan Norte, San Juan Sur, San Ramon East, San Ramon west and Santo Tomas.