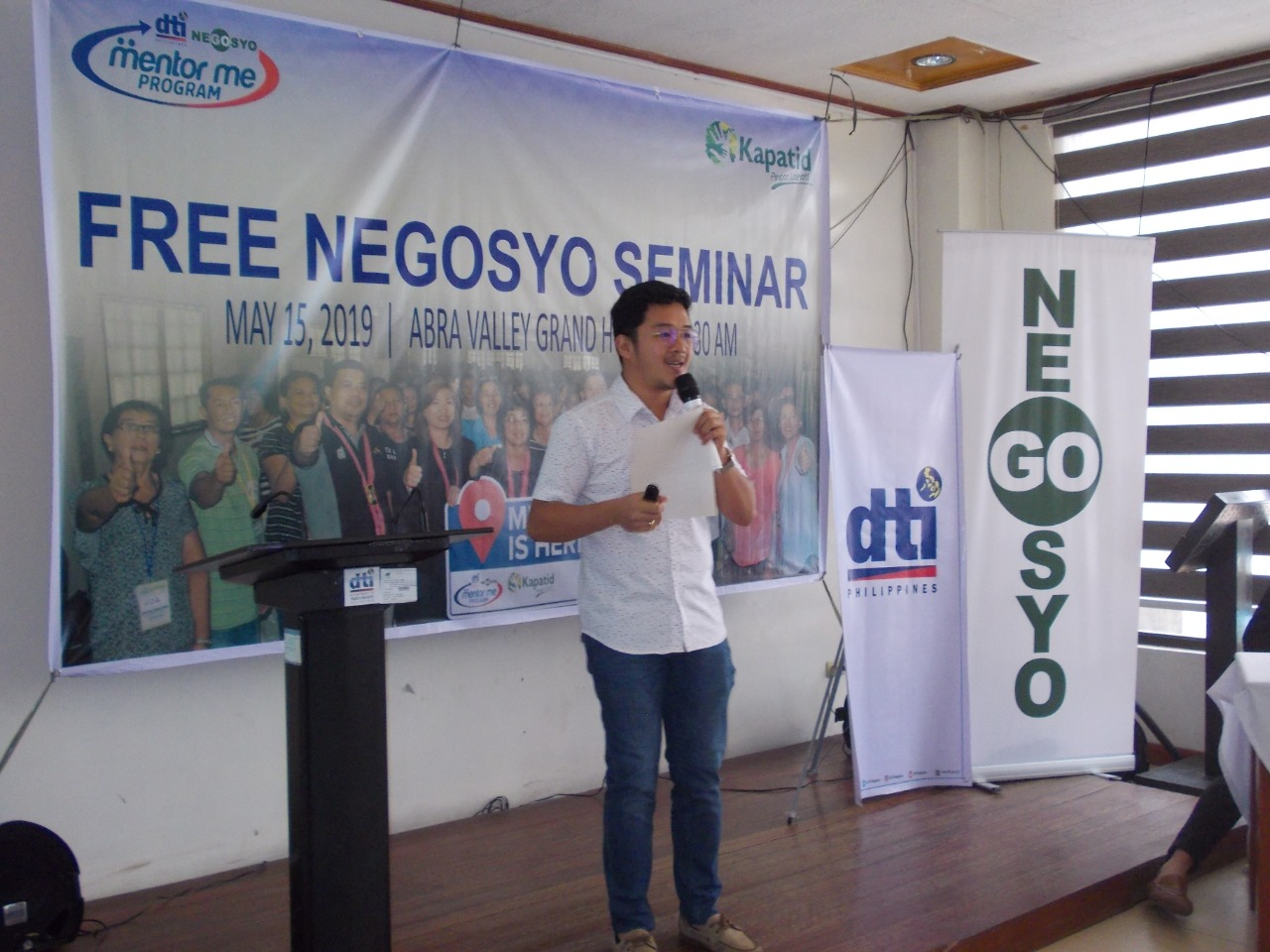 The Department of Trade and Industry together with private sectors, and the Philippine Center for Entrepreneurship (PCE)-Go Negosyo rolled out the "Kapatid Mentor Me Program" (KMME) to help Micro and Small Entrepreneurs (MSE) scale up their businesses at Abra Valley Grand Hotel, Calaba, Bangued on May 15, 2019.

TESDA and 25 MSE participated in the KMME that provides weekly coaching and mentoring of business owners and practitioners in their different functional areas of entrepreneurship.

PCE Program Development Associate Eugene Eudela said the mentors of KMME motivate and inspire the participants with their stories and experiences in running their business.

KMME has 12 modules to help the Micro and Small Entrepreneurs (MSE) grow their businesses such as marketing, entrepreneurial mindset and values formation, operations and financial management, human resource, business law, taxation, business improvement plan, and product exposure.

Eudela said after the participants have completed the modules, in addition, they will help them link up with different markets like SM, Robinsons, Lazada, and Shopee for product promotions. DTI also provides loan program to the graduates of the KMME.

Mr. Arnel V. Javier Jr. of St. Francis Vision Care Center and KMME 2018 mentee, shared his experiences running his own business. He emphasized through KMME that he learned how to properly manage his finances by separating the revolving fund for the business from the personal money and prioritizing his expenses.

He said he was so eager to apply it to his business. As a result, he was able to provide quality service and gained more profits.

Javier set up his eye clinic with P300,000. Five months after his engagement with KMME, he married Joeneth Semanero. They are able to buy a small lot, a car, and have their loans fully paid. This year, they are planning to purchase more equipment to offer more services so patients won't need to go outside the province.

He said the sustainability and success of the business lie in the quality of service, family support, and financial management. It is also important to hire employees who have the right attitude more than just skills. As employers, they should also provide just compensation to ensure employee retention.

He said they consider their business as a third person—a part of the family that needs care and attention.

"When you provide the needs of your business, the business will eventually give back to you through the profits," he added.

DTI Provincial Director Arell Bañez said through the KMME knowledge sharing, entrepreneurs have bigger chances to succeed with the right business knowledge.