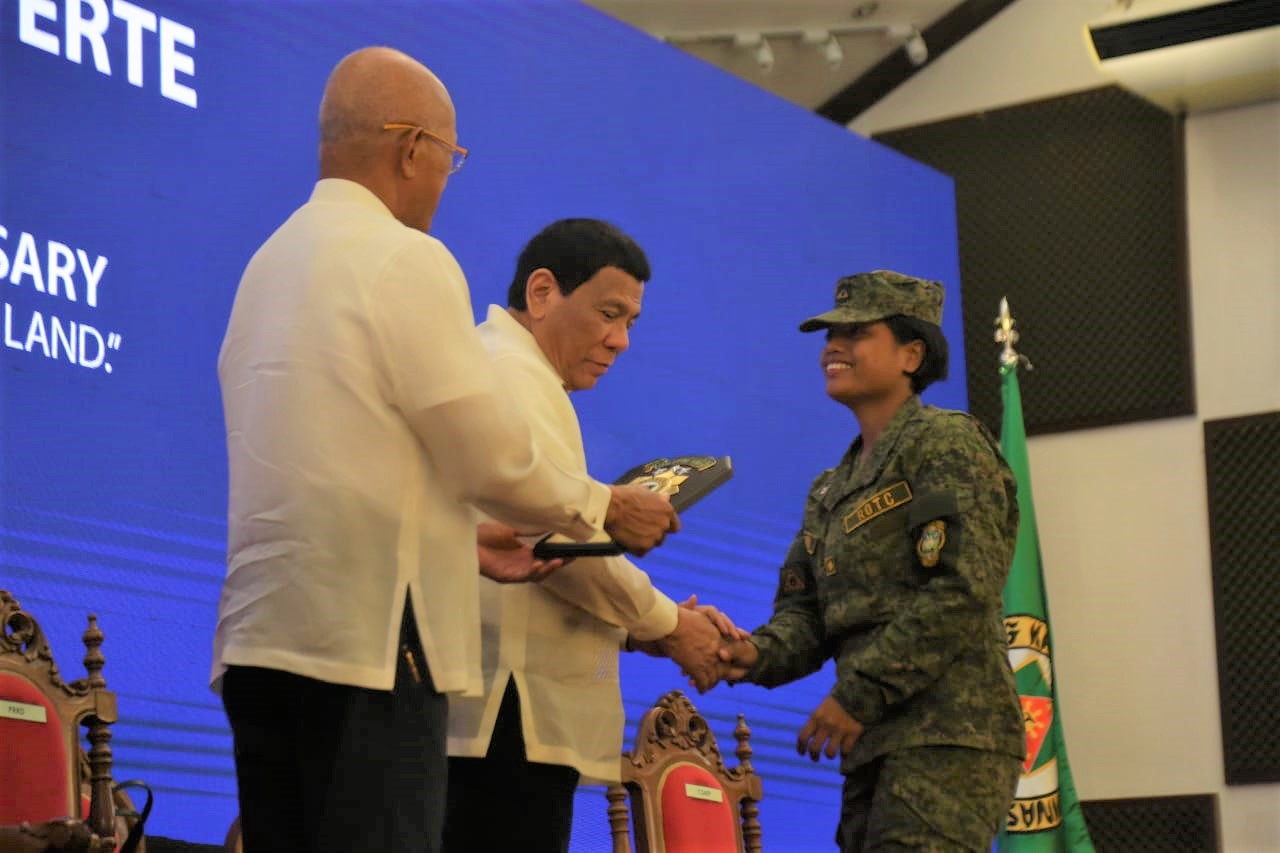 Cadet 1Lt Jovelyn Sambo of the Abra State Institute of Sciences and Technology (ASIST) is the Philippine Army's Female Reserve Officers Training Corps Cadet of the Year 2018 on March 21, 2019, during the 122nd Philippine Army Founding Anniversary Celebration at Headquarters Philippine Army, Fort Andres Bonifacio.
Sambo is one of the fifteen awardees in the entire Philippines. She was personally awarded by President Rodrigo Duterte.
In November 2018, Sambo was also one of the 10 Chief of Staff AFP Scholarship awardees nationwide. She was able to avail a P50,000 worth of scholarship. Jovelyn is a resident of Malita, Bangued. She is a second-year student taking up culinary management at ASIST.
She said that in order to be an ROTC cadet, she needs to balance training and academic performance Jovelyn said that ROTC training may be hard but welcomed the challenge. "Nu man ibagbaga da a narigat, saan yo a panunuten a narigat nu saan yo pay a napadasan," said Jovelyn.
"Dagidiay nangnangeg ko panggep iti ROTC ket saan nga isu iti nangdiscourage kaniak nu di ket isu ti nang challenge kaniak," Jovelyn added.
Being an ROTC Cadet, her scholarship helped since they are not financially stable. Through her scholarship, she is able to buy materials for her school projects and her basic needs.
Jovelyn said that among a million people, she was lucky to be awarded the Best Female Cadet. Jovelyn also said that she is proud being an Abreño representing the province, and Cordillera as a whole.
She also encouraged the incoming first year students to enroll in ROTC because it will benefit them through scholarship and discipline, and incentives.
Jovelyn said that the Philippine Army is encouraging her to enter as a regular soldier but she preferred to finish her studies first.
"It is really a great pride and honor for the college. Of all the cadets in the reserved unit of the ROTC in the country, 1Lt Sambo ranked number 1," said Executive Dean of ASIST-Bangued Campus Leo T. Pasos.
This should serve as a model and motivation to all the reservists to strive more. Congratulations," he added.