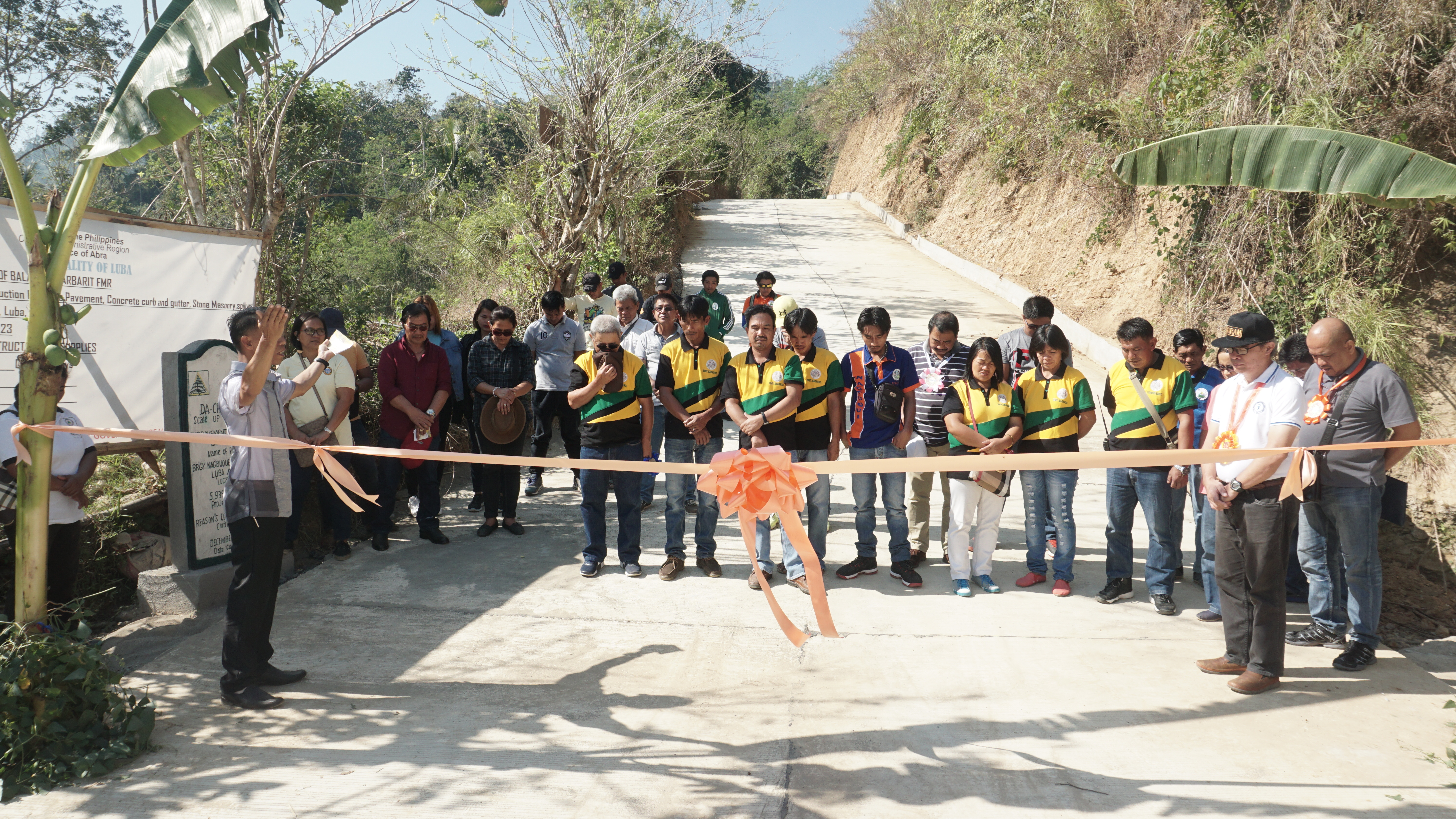 The improved farm to market road of brgy. Nagbuquel-Tuquipa, Luba was inaugurated, and turned over to the barangay officials today, March 27, 2019.
The ribbon cutting was led by DA-CAR Regional Executive Director Dr. Cameron P. Odsey with Agricultural Coordinator Officer Rosemarie Tesoro, Engr. Filemon Salvador, Vice Mayor Casimiro Molina, Engr. Dino Catulaia II, LGU personnel, and barangay officials.
The farm to market road was constructed through the Second Cordillera Highland Agricultural Resources Management Project (CHARMP2). It is a program of the Department of Agriculture (DA) which aims to alleviate the incidence of poverty in the upland areas.
The construction is a project of CHARMP in coordination with LGU Luba with a total project cost of P21,733,355.
The roads improved were Balakbak to Barbarit, Caniogan to Gayaman, Patay road, junction of Sitio Tuquipa to Sitio Botot, and Sitio Tuquipa to brgy. Luzong farm to market roads.
Before the project is formally turned over to the municipality, the certificate of completion was signed by DA-Regional Director Cameron Odsey, PCO Rosemarie Tesoro, Brgy. Captain Hitler Gayyed, Engr. Dino Catulia II, and the contractors before the residents of Barangay Nagbuquel-Tuquipa.
It was later on turned over to Vice Mayor Casimiro Molina and promised to take good care and maintain the project.
Brgy. Captain Hitler Gayyed also expressed his gratitude to CHARMP for having their barangay as one of the beneficiaries of the project.
DA-Regional Director Odsey also congratulated the residents of the barangay and hoped to continue their efforts. He also advised them to maintain the project.
PPDC Arnel said that today they already reaped the fruit of their hardships on attending meetings for the accomplishment of the project. Valdez said that with the improved farm-to-market roads, they are more motivated now to plant vegetables which is their source of income.
PCO Rosemarie Tesoro also congratulated the residents of the barangay because they have already achieved one of their dreams which is for their farm-to-market roads to be improved.