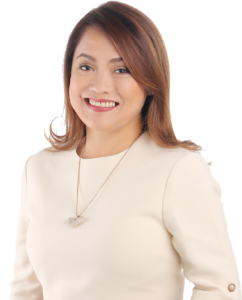 Maria Jocelyn Valera Bernos is the third sibling of Hon. Dominic B. Valera, Municipal Mayor of the Municipality of Bangued and Hon. Mila A. Valera, Barangay Captain of Barangay Zone 5 and a member of the Sangguniang Bayan of Bangued as the representative and President of the Association of Barangay Captain of the municipality.
Even though she is young, she is already a tested and seasoned leader.
She became the SK Provincial Federation President of the Sangguniang Kabataan in 1998, thus making her the representative of the youth in the Sangguniang Panlalawigan providing help and assistance, and endorsing numerous projects intended for the youth.
She got married to Mayor Marc Ysrael Bernos of the Municipality of Lapaz, making her the former mayor's partner in promoting progress for La Paz.
In 2007, she successfully ran as Provincial Board Member of the Second District of the Province of Abra. As a member of the provincial board, she gave importance to the field of education, health, infrastructures, and the likes.
She was elected as the Lone District Representative of the Province of Abra in 2010. She was an active member of the 15th and 16th Congress of the Philippines. She was the Vice Chairperson of the Committee on Cooperatives Development. She was a member of the Committee on Appropriations, Games, and Amusements, Health, National Cultural Communities, Natural Resources, Public Order and Safety, Public Works and Highways, and Women and Gender Equality. She was also a co-author of the bills proposed and laws enacted on Health Education, Poverty Alleviation, Agriculture and Peace and Order.  She envisioned herself as a public servant to her fellow Abrenios to provide assistance to the out- of- school youth (OSY), to the women and those who need job and employment, and just anybody who needs "H E L P S".
She was elected as the Provincial Governor of the Province of Abra in May 2016.  She continued her programs and projects with utmost sincerity under the banners "Asenso Abrenio" and JOY " H.E.L.P.S." to reach out to her constituents wherever and whenever they need her comfort and assistance as the true mother of the province.